CSA honors families
CSA presented several awards in conjunction with its 2017 National Western Stock Show-hosted events.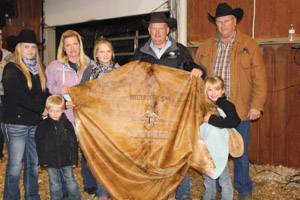 T-Heart Ranch of Center was named CSA's 2016 Breeder of the Year winner. The Outstanding Breeder award recognizes breed promotion, marketing and breeding success. T-Heart Ranch, operated by the Shane Temple family, runs about 800 registered and 1000 commercial Simmental-influenced cows in Colorado's high country. In addition to cow/calf pairs, they operate a feedlot at 8,000-feet elevation, where they develop their sale bulls. Not only are their bulls PAP tested before being offered in their March sale, but their herd has multi-generation PAP tested pedigrees to allow ranchers to select for high altitude success. Shane & Beth Temple and their four children also host a female sale each December.
T-Heart served as junior field day and state Simmental tour host in 2015. Beth Temple also is an active volunteer as CSA's vice-president. The Temple family was presented an embroidered cowhide at the Wild, Wild West sale on Jan. 17, 2017.
Ron & Sherry Mari of Holyoke were presented the President's Award at the start of the sale. The Mari family has been a vital mainstay of CSA's National Western activities, said CSA President Robert Campbell as he thanked them for their volunteerism. Ron has served as pen show chairman for about 20 years and the couple has also continuously catered the pre-sale barbecue before The One sale at National Western.
The Mari family also hosted the state Simmental tour in 2013 and Ron previously served on CSA's board of directors. They were caught by surprise as they were called into the ring for the presentation.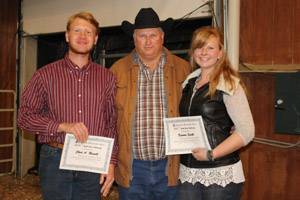 Prior to the sale, two scholarships also were announced. Chad Russell of Sugar City received a $1000 grant and Keanna Smith of Ignacio, was awarded $500.
Pres. Campbell thanked them for their years of junior leadership. Russell, a junior, is double majoring in animal science and mathematics at Colorado State University-Fort Collins. He led CJSA as president for six years, in addition to service as a State 4-H officer and in FFA, where he was an American Degree recipient.
Smith is a freshman at Redlands Community College and plans to pursue nursing. She enjoys successfully exhibiting her small herd of Simmentals and livestock judging.