Colorado's Altenburg wins world Simmental honor
DENVER –Colorado rancher Willie Altenburg of Fort Collins was added into the Golden Book of the World Simmental Fleckvieh Federation. Altenburg's accomplishments were recognized during the American Simmental Association (ASA) annual meeting and reception, held in conjunction with the National Western Stock Show here.

The citation states "Willie Altenburg has been a tireless force not only on behalf of Simmental genetics, but for the entire beef industry. He has held numerous leadership posts, including two three-year terms on the ASA Board of Trustees, as ASA's official liaison representative to the National Cattlemen's Beef Association, as president of the highly respected Beef Improvement Federation, and as president and member of the Colorado Simmental Association, which presented him with its highest award, an Honorary Lifetime Membership.

"An innovative and insightful thinker, he has been instrumental in several far-reaching decisions, including ASA's Progress Through Performance shows, the ground-breaking FOCUS 2000 Conference and the CSA's successful People's Choice Power Bull program.

"With his wife, Sharon, Altenburg is the owner/operator of Altenburg Super Baldy Ranch, maintaining a herd of 175 Simmental and Angus females. Over the years, they have hosted more than 15 student interns from nearby Colorado State University.

"A breeder of Simmental for more than four decades, he has maintained a parallel career in the artificial insemination industry, first with American Breeder's Service and more recently as vice-president of beef marketing for Genex Cooperative Resources International."

He is the father of three grown children, Ryan, Jennifer and CJ, who are all involved in agriculture and attended the Denver festivities along with their families.

Altenburg's citation concluded: "His insight and knowledge of the needs of American cattle breeders has contributed mightily to the continued success of Simmental genetics in the U.S."

More than 500 attended the Jan. 20 reception that recognized Altenburg, and fellow recipients Tommy Brown of Clanton, AL, and Roger Kenner of Leeds, ND.

Altenburg's award was presented by Susan Russell, a fellow Colorado rancher and ASA trustee from Sugar City. Russell was re-elected to her second three-year term on the national board and re-installed Jan. 19 as a western U.S. trustee.

She noted that Altenburg was the third Coloradoan to receive the Golden Book Award since the honor was created in 1982. Miles Davies of Deer Trail and Dr. Earl Peterson of Littleton, have been past Colorado recipients. "It is an elite and deserving honor," she added, "We're fortunate to have these role models for our performance-based breed. They are true leaders in the beef industry."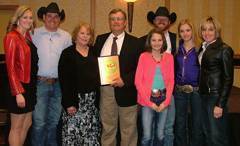 Willie Altenburg is joined by his wife, children and grandchildren to receive the Golden Book Award.

Susan Russell presents the Golden Book of the World Simmental Fleckvieh Federation plaque to Willie Altenburg of Fort Collins.
Colorado Beef Profit Alliance
WELLINGTON – Industry experts focused on economics at the Colorado Beef Profit Alliance seminar on Sept 15.

Tom Brinks, of JBS Five Rivers, lead off Saturday's program at CSU Agricultural Research, Development & Education Center, by reminding ranchers that all segments of the industry need to communicate. "You're in the beef business. Your income is derived from consumer's spending on beef, and feedyards buy your customer's cattle" he reminded the purebred cattlemen at the session sponsored by Colorado State University, Colorado Simmental Association, Genex Cooperative, Northern Feed & Bean, and Red Angus Association of Colorado.
Brinks highlighted the need for high-immunity calves that come from a sound health program. In addition to health, Brinks shared JBS research that illustrated how the right crossbreeding mix makes the most economic sense for feedlots. "Good genetics help cattle grow and grade," he said. As he walked through the data, Brinks encouraged a strong British x Continental crossbreeding plan that creates the best economic outcome. "Your genetics leave an imprint on this industry," Brinks told the 40 ranchers. He asked that their fingerprint be one of value and opportunity.
Dr. Kraig Peel, of CSU, spoke on how genetics can change input costs. While the seedstock segment often uses systematic or strategic planning, he encouraged purebred cattlemen to help their commercial cattle customers with genetic management. Peel started with basics, such as cow size and calving in sync with range conditions, then followed up with research that showed good crossbreeding will create higher hybrid vigor.

Myron Edelman of Red Angus and Will Townsend of American Simmental, explained a marketing program that helps earmark the genetics, as well as age and source verification, as it flows down the
industry chain.
Likewise ASA's Dr. Lauren Hyde and Red Angus' Larry Keenan discussed the new multi-breed common base Expected Progeny Differences (EPDs) and DNA-enhanced EPDs. In addition to updating the seedstock cattlemen on the latest technological advances, the pair explained how the common base will allow commercial producers to more easily appraise the genetic advantages of animals.

Patsy Houghton of Heartland Cattle of McCook, NE, focused on the importance of reproduction.

Based on 22 years of data from her heifer development business, she summarized the five key traits as fertility, longevity, immune response, fleshing ability and disposition. Crossbred heifers have proven to settle quicker, proving the value of heterosis on fertility. She recognized that heifer development and growing 2-year-old bred heifers are challenges, but proper management and genetics will create a productive cow that stays in the herd.
Houghton said that today's crossbreeding options using composite bulls and crossbred cows is as easy as a cake mix, "just add water and stir." But it takes planned mating, good records and marketing goals. She encouraged the seedstock segment to help its customers to develop a cowherd base that fits the industry.
Dave Weaber, an economist and Delhaize Group protein buyer, wrapped up the day-long alliance session with what supermarkets see in consumer choices. His graphs explained the meat consumption trends seen by their international supermarket chain, and he fielded questions on the retail meat case. During the day-long field day, participants also toured the ARDEC facilities, and enjoyed a brisket dinner served by CSU's meats team.


CSU ARDEC Manager Clayton Shonk (far right, blue shirt) and Joe Frasier (far right, black jacket), show field day participants a pen of Frasier's cattle on feed at CSU's research center.
Click links below for speaker power point summaries:
What Value Looks Like - Brinks
Cow Costs - Peel
Marketing Programs - Edelman/Townsend
Multibreed Common Base - Hyde
Heterosis - Houghton
Trends in Consumer Choices - Weaber
2012 Colo State Fair
SimGenetics dominated the Supreme Champion drives at the 2012 Colorado State Fair in Pueblo.

In the youth show, Cody Huwa's winter yearling heifer was named Supreme in the 2012 breeding beef youth show. After capturing the SimSolution Champion, the Simmental x Maine/Angus heifer was paraded among the fanfare of Cattlemen's Day. The black Feb 1, 2011 heifer went on to capture the multi-breed Supreme award on Aug. 27.
Then, in the open show, another judge picked SimGenetics above the other breeds. Austin Reitzntein's senior heifer calf was named Supreme in the open class drive. After capturing the SimSolution Champion title, the Simmental x Angus heifer went on to the evening's multi-breed drive. The Sept. 6, 2011 heifer, an ET calf, was named Supreme on Aug. 29.
Congratulations to these two youth, who EACH received $1000 prizes!
The Colorado State Fair results are:
Youth show Simmental Heifer Champion - Tate Kerchal with TRL 50 Caliber Y110; Reserve - Chad Russell with WRC Mrs. RanchHand Y186. SimSolution Heifer Champion - Cody Huwa with Nage MS Driver 49Y; Reserve - Austin Reitzntein with CRN Erica 175Y.
Open class bull show SimSolutions Bull Champion - Blind Badger Ranch.
Open class female show Simmental Heifer Champion - Tate Kerchal. SimSolution Heifer Champion - Austin Reitzntein; Reserve - Michiala Singer.
Thanks to Jerrid & Katie Brisendine and Susan Russell for putting up the breed booth at the State Fair.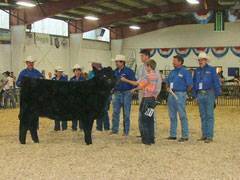 Cody Huwa's winter yearling heifer
Supreme in the 2012 breeding beef youth show

Simmental championship drive with Chad Russell (foreground with reserve) and Tate Kerchal (background with champion).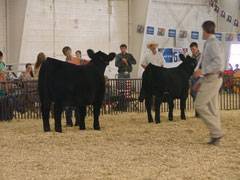 SimSolution championship drive with Cody Huwa (foreground with champion) and Austin Reitzntein (background with reserve).