Curtis & Susan Russell of Sugar City were added into the World Simmental Federation's Golden Book. The international leadership award was presented during the ASA Ag Gala on Jan. 14, 2018, in conjunction with the National Western Stock Show activities.
Curt & Susan each, and often both, have served continually on the Colorado Simmental Association board since 1994; and each have served full terms on the American Simmental board and its executive committee. They are the first husband-wife team to both serve on the national board. They also volunteer with Colorado Cattlemen's Association and Bent-Prowers Cattle & Horse Growers boards. The pair own and operate Reflected R Ranch, which features about 150 head of SimGenetics; and WW Feed & Supply LLC in La Junta, CO. Russell's Reflected R Ranch, and Fred & Phyllis Swain of KY, were the USA inductees into the Golden Book in 2018. Both couples were lauded as Simmental Ambassadors. They are the 77th & 78th names to be added to the top breed honor from the United States in the Federation's history. Prior to the Russells, three other Colorado recipients received the honor: Willie Altenburg, Miles Davies, and Dr. Earl Peterson.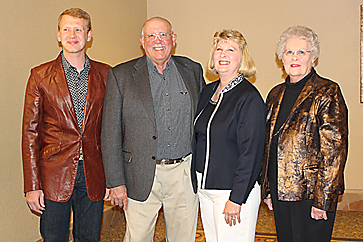 Curtis & Susan Russell, shown at the Ag Gala while flanked by son Chad and mother Lois Schlickau, received the Golden Book Award
T-Heart Ranch received the Colorado Cattlemen's Seedstock Producer of the Year honor. Shane & Beth Temple and family were nominated by CSA for the award, which was presented Jan. 15, 2018 in Denver.
The Temples' T-Heart and L-Cross ranches include about 300 cows near Center, CO. In addition they have a feedlot and farming operation.

Lindsay, Shelby, Beth and Shane Temple receive the award during the CCA Mid-Year Conference.
Simmental Elects New Leaders, Presents Honors
PUEBLO - Colorado Simmental adult and youth members elected leadership and honored volunteers during its annual meeting here.
Robert Campbell of Ignacio, CO, and Mike Rains of Oakley, KS, were recognized with the traditional engraved cowbell as they retired from Colorado Simmental Association board service. Campbell had served 18 years in separate terms including several years as president, and Rains completed nine years as a director. Pres. Campbell also announced expressed his thanks to Susan Russell. A Sugar City rancher, Russell has been CSA secretary/treasurer since 1998 plus she coordinates National Western Stock Show breed events. She was named the President's Award recipient.
In addition to reports and highlights of the year in the 47th annual business session, Russ Princ and Willie Altenburg, both of Fort Collins, were elected as directors. The board size was formally reduced to a seven-person governing body. Further, Beth Temple of Center, was selected president and Jay Hill of Sterling was elected vice-president. Rounding out the board are current directors Vicky Ahlberg, Duke Duzik, and Mitchell Jergensen. Susan Russell was re-appointed secretary/treasurer.
During the youth's annual meetings, Bryce Hill of Sterling was re-elected Colorado Junior Simmental president, Keanna Smith of Ignacio, as vice president; and Ellie Woodward of Bailey, as secretary. All CJSA members exhibiting in the Colorado State Fair show's youth show on Aug. 28 received defrayment checks to cover entry and travel expenses. Smith, a newly appointed American Junior Simmental Trustee, was congratulated on her leadership position and she received travel defrayment from attending the AJSA National Classic. The CJSA members began planning a 2018 multi-breed field day
| | | | |
| --- | --- | --- | --- |
| | | | |
| Robert Campbell | Mike Rains | Beth Temple | Susan Russell |