Follow Us
Colorado Simmental Association
C/O Sec. Susan Russell
24614 Road G
Sugar City, Co 81076-9514
Phone: 719-469-0020
Email: colosimmental@gmail.com


Pioneer Awards given to Docheff & Sparks

CSA honored two of its founders during Simmental's 2019 National Western Stock Show activities.

Jim Docheff of Longmont and Bill Sparks of Springfield, who received CSA's Pioneer Award, helped bring Simmental to the West. When CSA formed in 1970, Docheff and Sparks both provided leadership skills. "Their names are intertwined with the breed's development and we owe a debt of gratitude to these honorees," CSA president Jay Hill of Sterling said as he made the Jan. 22 presentation. "CSA historic files show they both were instrumental in so many early efforts."

In 1974, when Docheff was president and Sparks was vice-president, they represented CSA at the national convention, then in Louisville, KY. While there, they put in a successful bid to host the American Simmental Association convention. Sparks managed that convention in 1976 in Denver.

The pair continued their service to the board, plus they promoted using Simmental through marketing campaigns, booths and shows. They ran the first breed booth at National Western Stock Show in 1975. They encouraged the genetics, were instrumental in getting Simmental recognized at the major shows, and helped coordinate inaugural breed events.

The Docheff family, ASA member #919, continues to use Simmental semen, plus they operate a well-known dairy in Longmont. "I still breed some of my Holstein dairy cows to Simmental bulls through AI. I truly believe in the Simmental breed. I believe it is and always will be the breed of the future," Docheff said.

Sparks said he also still uses SimGenetics in his family's 300-cow operation near Springfield. In addition, Sparks ran a successful auction business. Although since retired, Bill Sparks put on his auctioneer hat once again to sell the donation lot at the start of the 2019 Wild, Wild West sale. The lot, a new Chart tank filled with 70 straws of Simmental semen donated by sale consignors, raised $2500 when Sparks banged his gavel. Todd Cattle bought the fundraiser lot, with proceeds earmarked for youth scholarships and defraying CSA's National Western activities.
Bill Sparks, left, and Jim Docheff are shown manning a 1980 National Western Stock Show booth. CSA began booths in 1975.

Jim Docheff, left, greets Bill Sparks as they reunited after many years. The two men received CSA's Pioneer Awards.
Pair pictured with CJSA Sec. Ellie Woodward receiving
a portion of their award.
Outstanding Breeder given to Bridle Bit Simmentals

CSA presented an Outstanding Breeder honor to Bridle Bit Simmentals. Bridle Bit, owned and operated by Erroll Cook and sons. The surprise honor was announced during the 2019 National Western Stock Show activities.

Erroll was introduced to Simmental genetics as one of the early AI technicians while earning his bachelor's degree at Colorado State University in 1969. The family has a long history of service and involvement, which continued when they moved back to southeast Colorado in 1986. The Cook family has excelled with both their ranch and their fuel station at Walsh, with many family members involved in both businesses.

"Chad has especially ramped up their cattle program," Hill said. "They are one of ASA's Performance Advocate qualifiers, plus their sale bulls are now being developed using a GrowSafe system to gain additional feed efficiency data. Another example is in their 2018 All-Terrain Bull Sale, where their sale topper brought $32,000, showing the demand for their cattle."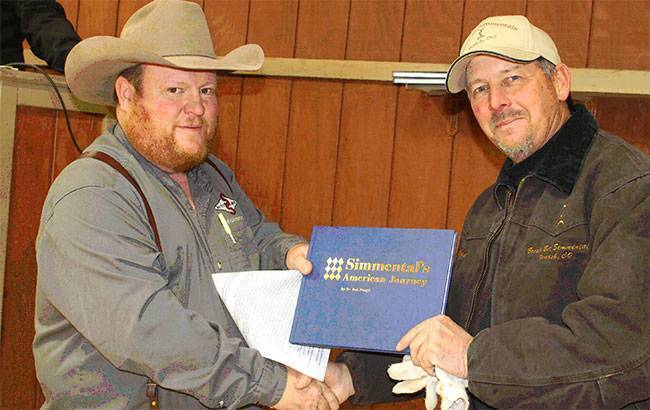 CSA Officers & Directors Elected

CSA elected officers for the 2018/19 year during its September board meeting. They are: Jay Hill, president; Mitchell Jergensen, vice-president; and re-appointed Susan S. Russell as secretary/treasurer. We thank outgoing president Beth Temple for remaining engaged on the board and for her year at the group's helm.

Previously, at the CSA annual meeting, Charles "Mick" Meiklejohn of Collbran was elected to the board of directors. Mick has served in the past and we appreciate his return to the board. Also in June, Jay Hill of Sterling, and Mitchell Jergensen of Ramah, were re-elected to the Colorado Simmental board of directors. Rounding out the board are Vicky Ahlberg of Longmont, Willie Altenburg of Fort Collins, Russ Princ of Fort Collins and Beth Temple of Center.

During the June 8 event, Reflected R Ranch's Curt Russell grilled for the group prior to elections, reports and the year's highlights. The board formally recognized and thanked Duke Duzik of Craig, who was term limited. Duzik earned the traditional engraved cowbell as he retired from Colorado Simmental Association board service.




CSA Members at ASA Fall Focus

CSA had 11 of its members participate in the ASA's 50th anniversary celebration and Fall Focus educational conference on Aug. 25-29, 2018 in Bozeman, MT.
Colorado State Fair
A Simmental heifer won the multi-breed Supreme Champion to culminate the 2018 Junior champion drive at the 2018 Colorado State Fair. Congrats to Jacob Pfannebecker, whose heifer won the overall Junior Breeding Female award.

Junior shows results were: Sydney Baty, Grand Champion SimGenetics; Lyle Cooksey, Reserve Grand Champion SimGenetics; Jacob Pfannebecker, Grand Champion Simmental & multi-breed Supreme Champion; Bryce Hill, Reserve Grand Champion Simmental.

Open-class female show results were: Paul Cooksey, Grand Champion SimGenetics; Lyle Cooksey, Reserve Grand Champion SimGenetics; Jacob Pfannebecker, Grand Champion Simmental; Bryce Hill, Reserve Grand Champion Simmental.

CJSA Officers Elected

During CJSA's annual meeting on June 9, Bryce Hill of Sterling was re-elected Colorado Junior Simmental president. McKellen Rains of Oakley, KS, was elected vice president; and Ellie Woodward of Bailey, was re-elected secretary.
The CJSA annual meeting was held following the 2018 Junior Extravaganza, a new joint field day held in conjunction with the Rocky Mountain Junior Shorthorn Association.




CSA Member Given International Honor
Curtis & Susan Russell of Sugar City were added into the World Simmental Federation's Golden Book. The international leadership award was presented during the ASA Ag Gala on Jan. 14, 2018, in conjunction with the National Western Stock Show activities.
Curt & Susan each, and often both, have served continually on the Colorado Simmental Association board since 1994; and each have served full terms on the American Simmental board and its executive committee. They are the first husband-wife team to both serve on the national board. They also volunteer with Colorado Cattlemen's Association and Bent-Prowers Cattle & Horse Growers boards. The pair own and operate Reflected R Ranch, which features about 150 head of SimGenetics; and WW Feed & Supply LLC in La Junta, CO. Russell's Reflected R Ranch, and Fred & Phyllis Swain of KY, were the USA inductees into the Golden Book in 2018. Both couples were lauded as Simmental Ambassadors. They are the 77th & 78th names to be added to the top breed honor from the United States in the Federation's history. Prior to the Russells, three other Colorado recipients received the honor: Willie Altenburg, Miles Davies, and Dr. Earl Peterson.

Curtis & Susan Russell, shown at the Ag Gala while flanked by son Chad and mother Lois Schlickau, received the Golden Book Award
CSA Member Given State Award
T-Heart Ranch received the Colorado Cattlemen's Seedstock Producer of the Year honor. Shane & Beth Temple and family were nominated by CSA for the award, which was presented Jan. 15, 2018 in Denver.
The Temples' T-Heart and L-Cross ranches include about 300 cows near Center, CO. In addition they have a feedlot and farming operation.

Lindsay, Shelby, Beth and Shane Temple receive the award during the CCA Mid-Year Conference.