Easton Hill has started his 4-H beef career with a stack of rosettes. During the 2022 Colorado State Fair, the young man added to his winnings with the highlight of earning the Multi-Breed Supreme Female with his Simmental heifer KLER/HLL Rain Marie J33 (ASA # 3948324) in the open class breeding beef shows.
This April 2, 2021 female was Grand Champion Simmental in both the youth and open shows. In the open show, Hill also had Grand Champion SimGenetics female. He was named Premier Simmental exhibitor.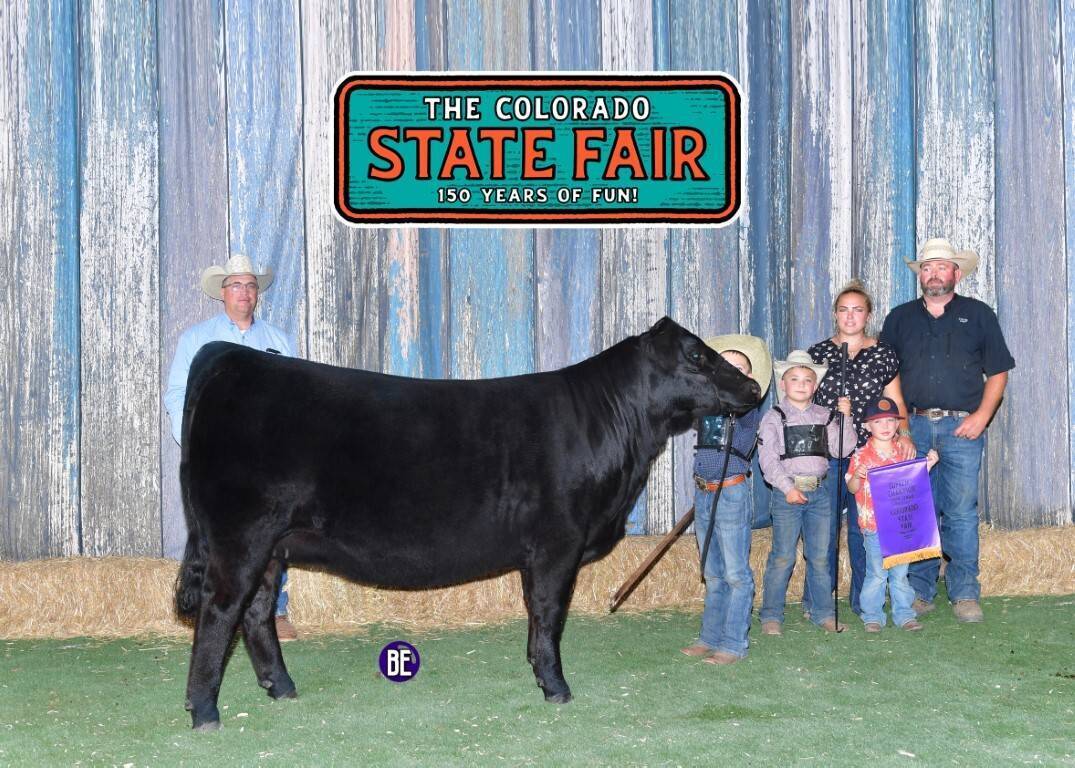 Easton Hill's Simmental heifer captured the Multi-Breed Supreme Female at the Colorado State Fair.
The results are:
Breeding Beef Youth show - Simmental division
Date: Aug. 29, 2022
Location: Pueblo, CO
Judge: Matt Copeland
Nara Visa, NM
Grand Champion PB SM female - "KLER/HLL Rain Marie J33,s. by Profit, exh. by Easton Hill, Nunn, CO
Reserve Champion PB SM female – "Helmfarms Lil Mary 244J," s. by JSUL SOMETHING ABOUT MARY 8421, exh. By Lear Hansen, Burlington, CO
Grand Champion Percentage SM female – "R/C Jamaica 326Y," s. by HPF QUANTUM LEAP Z952, exh. By Jaxon Walker, Greeley, CO
Reserve Champion Percentage SM female - "Sweet Pea," s. by W/C RELENTLESS 32C, exh. by Jaycob Cogburn, LaSalle, CO
Multi-breed Champion Junior showman – Easton Hill, Nunn, CO
Breeding Beef Open class show – Simmental division
Date: Aug. 31, 2022
Location: Pueblo, CO
Judge: Jeff Ward
Laramie, WY
Overall Supreme Multi Breed Champion and
Grand Champion PB SM female - "KLER/HLL Rain Marie J33," s. by Profit, exh. by Easton Hill, Nunn, CO
Reserve Champion PB SM female – "JPV Miss Jasmine 38J," s. by CNS PAYS TO DREAM T759, exh. By Jason Dias, Fort Morgan, CO

Grand Champion Percentage SM female - "Lees Dixie Erica 1299," s. by KCC1 Folsom 512F, exh. by Easton Hill, Nunn, CO