Follow Us
Colorado Simmental Association
C/O Sec. Susan Russell
24614 Road G
Sugar City, Co 81076-9514
Phone: 719-469-0020
Email: colosimmental@gmail.com


---



Fabrizius receives CSA Education Grant


During the Nov. 6, 2021 annual meeting, CSA Pres. Jay Hill announced that Blake Fabrizius of Carr was selected the recipient of the CSA Youth Education Grant..
The 19-year-old is currently studying at Northeastern Junior College where he is completing studies plus serving on the livestock judging team. Fabriziius was awarded CSA's $500 stipend toward next semester's education expenses.

He has been involved in exhibiting Simmental cattle for two years. He has worked on his family's ranch in addition to a summer construction job. Past honors have included being a part of the Champion Colorado FFA State Livestock Judging Team, and a 2020 National Western Stock Show scholarship recipient. His references lauded his success academically as well as developing goals for transferring to a university after his time at NJC.

CSA offers several grants and rewards for the next generation of cattlemen. They are:
• Youth Herd Builder Grant - CSA offers financial assistance to youth purchasing SimGenetics females. Click here for application form, due each Oct. 1.
• Youth Education Grant - CSA offers a finance boosts for educational options including trade school, junior college, university or ag-related short-courses. Click here for application form, due each Oct. 1.
Further, youth are annually offered:
• CSA County Fair custom award is created for winners of the overall grand champion honors earned in market, breeding or open show divisions at your county fair in Colorado. Open to 4-H & FFA members. Click here for application form, due each Oct. 1.
• Travel Defrayment for qualifying CJSA members participating in AJSA regionals, National Classic, &/or The Summit leadership conference. CSA offers this partial financial reimbursement. We're proud to have our youth represent the state at these breed enhancement opportunities.
• CJSA Defrayment Stipend for qualifying CJSA members participating in the Breed Bash &/or showing their SimGenetics cattle in the Colorado State Fair's junior breeding beef show. CJSA offers this financial incentive.
---
Youth's Simmental Heifer Named St Fair's Supreme
PUEBLO - A Simmental heifer captured the Colorado State Fair's Supreme Grand Champion title at the 2021 fair. Dylan Stone's BTYL Catypso 312H won the Champion Simmental title in both the youth and open-class shows, then earned the multi-breed Supreme Grand Champion Female title in both showdowns.

The breeding beef show was cancelled at the 2020 fair, due to COVID. However, at the 2019 State Fair, a Simmental heifer owned by Jacob Pfannebecker captured the multi-breed Supreme Grand Champion Junior Heifer title and Cash Pratt's Simmental was named the Supreme Reserve Champion.

Simmentals again were in the spotlight in the 2021 shows with Stone's double win.
In the junior (youth) breeding beef show on 8/30/2021, judge Kyle Conley of Sulphur, OK picked:

Champion Simmental Female- BTYL Catypso 312H shown by Dylan Stone.
Reserve Champion Simmental Female- CHY County O shown by Aspen Hawkins.
Champion Percentage Simmental Female- BTYL Marauder 300H - shown by Colbie Bruna
Reserve Champion Percentage Simmental Female- RG Lady H4 shown by Colbie Bruna
In the smaller open-class show on 9/1/21, judge Harlan Yoakum of Sapulpa, OK picked:
Champion Simmental Female- BTYL Catypso 312H shown by Dylan Stone.

Both judges Conley and Yoakum picked the Simmental heifer for the multi-breed finale, which included a $1000 CSF prize. During the show, in addition to premiums, CSA donated a customized hide I-pad cover for both youth divisions and a customized boot jack for the open-class. The Colorado State Fair does not use any EPD data and isn't a PTP show, only visual appraisal.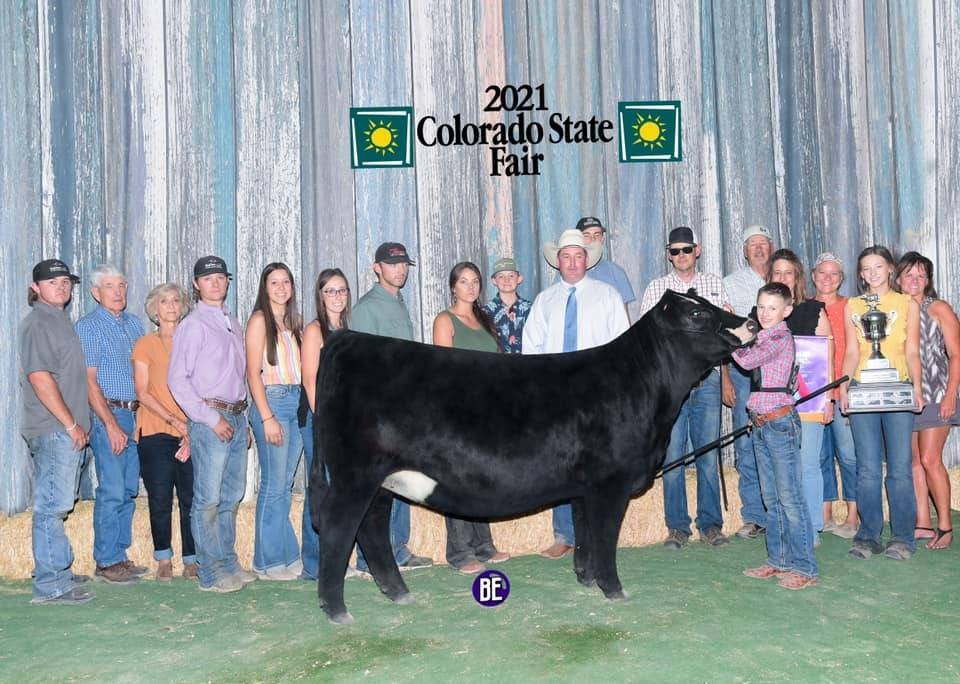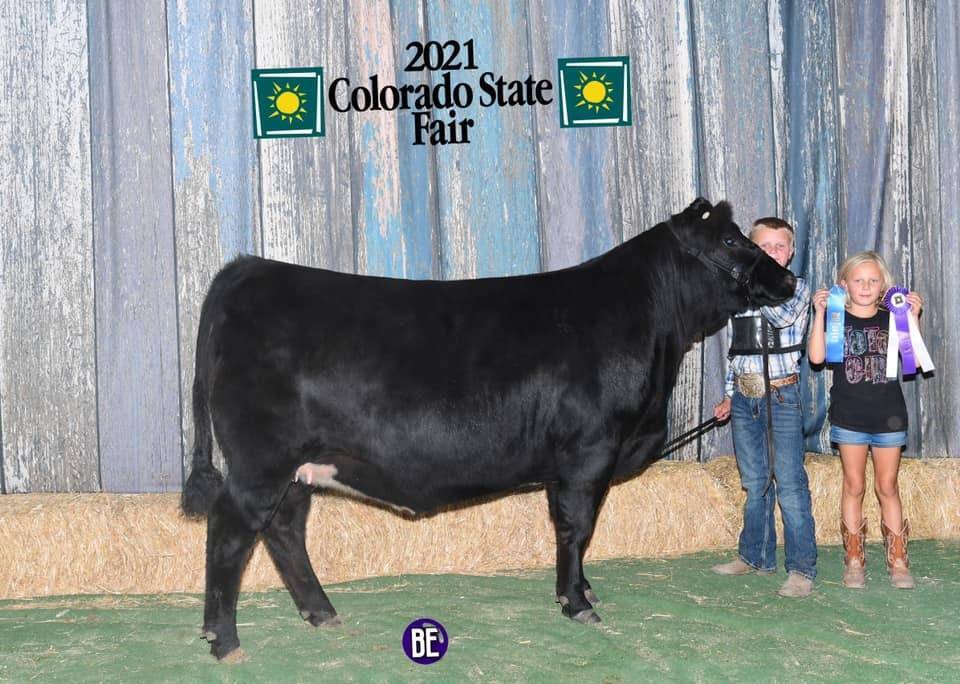 photos courtsey of Beverly Englert Photography
---
Colorado Youth at 2021 AJSA National Classic
Colorado had a delegation of youth participating in the 2021 AJSA National Classic in Grand Island, NE. Some of the CO highlights included:

Sydney Baty: (senior division): 13th overall cumulative points; 7th overall sales talk; 16th overall senior showmanship; tie 20th overall cattlemen's quiz and in the shows themselves- Reserve Grand Champion overall Bred & Owned Percentage Female and 9th overall Owned Percentage Female (both with BTYL Wicked Tuna 322H); 4th in division 4 of Owned Purebred Female (BTYL Lady Puma 311H);18th overall Bred & Owned Purebred Female (BTYL Grace Loves Lace 404J); and Champion Bred & Owned Percentage Pair and Champion Owned Percentage Pair (both with BTYL Nocona 215G & calf BTYL Grace Loves Lace 404J -pictured. It is noteworthy that Nocona was Reserve Grand Champion B&O Percentage & 20th overall Owned Percentage at the 2020 AJSA National Classic in South Dakota, and she came back as a pair in the 2021 winner's circle.).
Brandyn Hill: (intermediate division): 13th overall in judging contest.
Vada Vickland: 5th overall Bred & Owned Percentage Female (JPV Miss Clavel 2H).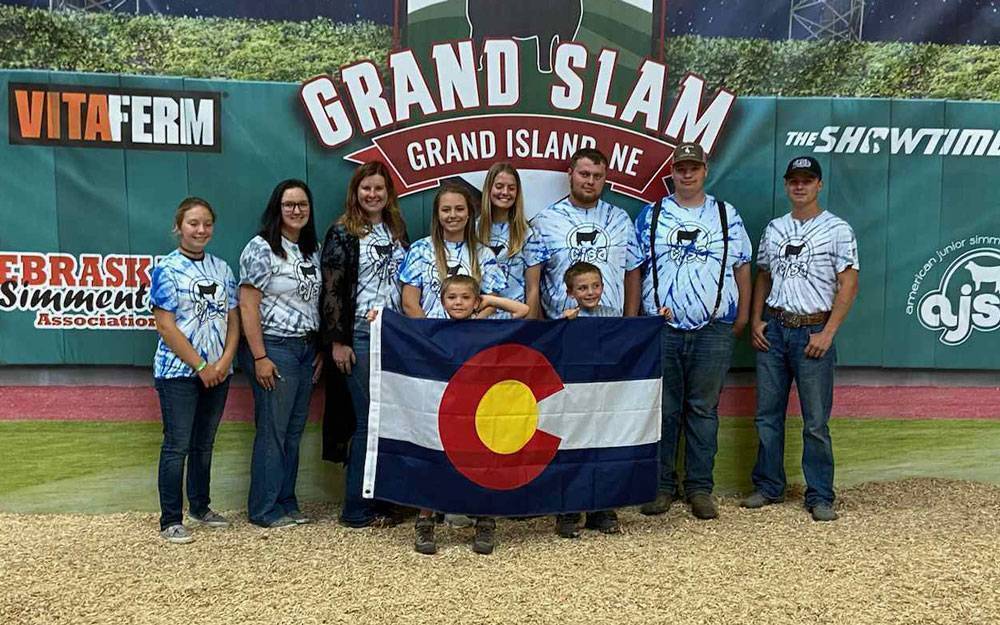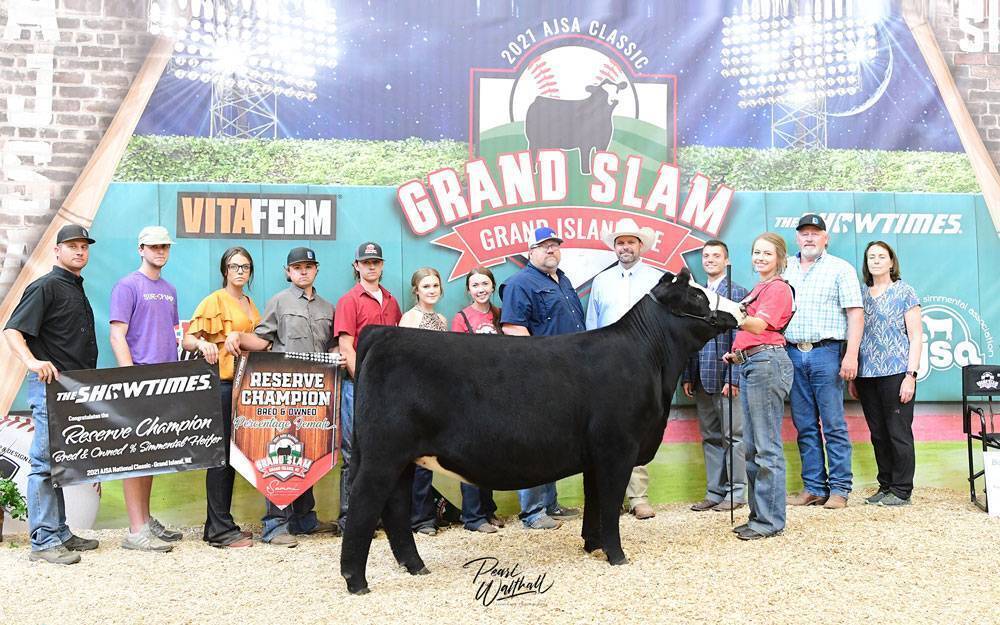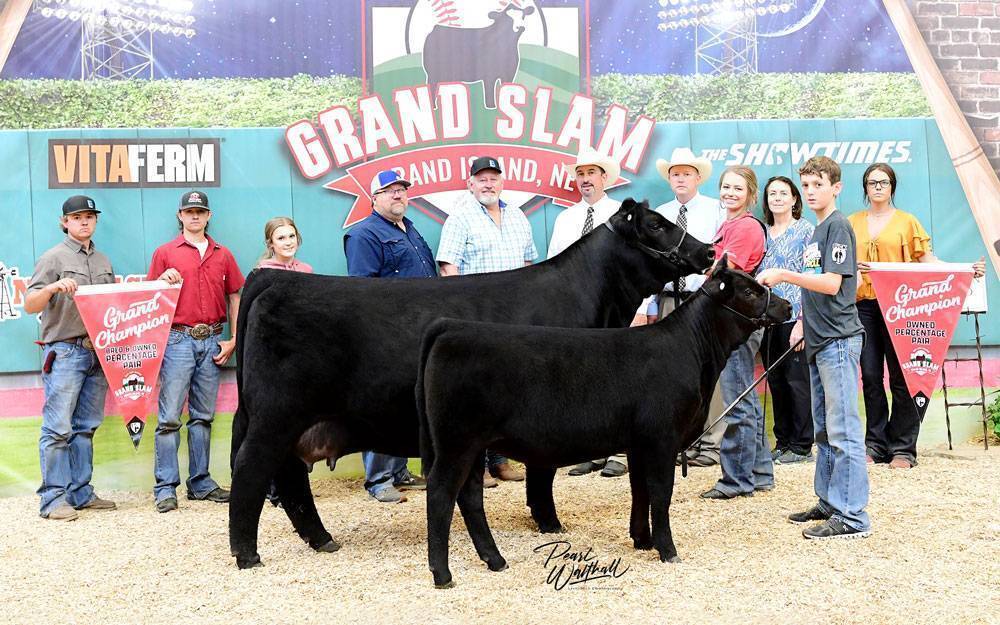 ---

Simmental Part of Breed Bash






Colorado Junior Simmental members were part of the inaugural Breed Bash, a state multi-breed field day on June 5 & 6 in Brush, CO. Colorado's young cattle enthusiasts had opportunities to interact, win awards, and practice for Junior Nationals.

CJSA member Easton Hill joined up with Lana Johnson to win reserve champion in the Salesmanship contest's junior division. The team made mock sale pitches of their animal to improve their communication skills. Photography and prepared speech contests also were held on June 5.

About 35 youth were part of the Quiz Bowl competition, pitting randomly assigned youth teams in round-robin fashion, to test their cattle industry knowledge. Quick buzzer slaps, pondering looks, and laughter punctuated the contest. CJSA members were part of Quiz Bowl teams in the semi-final round.

CJSA members also participated in stiff competition in the all-breeds youth showmanship contest, judged by Cheramine Viator of Texas.

More than 70 head of registered cattle were exhibited in breed-specific shows. For Simmental, purebred owned, percentage Bred and Owned, Percentage owned heifers and steers divisions were held.

Blake Fabrizius won both the Simmental and the SimGenetics Supreme awards. June 6th culminated with an Overall Supreme Breed Bash Championship drive. Blake's Simmental Supreme, KLER/HILL Lucille 082H, from the owned Simmental junior yearling heifer division, earned him a custom vest from judge Viator as Ovreall Reserve Champion.

Breed Bash was a collaborative effort by junior advisors from Colorado's Angus, Hereford, Limousin, Red Angus, Shorthorn and Simmental associations, and Colorado Cattlemen's Association.

With overwhelming positive feedback, the 2nd annual Breed Bash is being planned for June 4-5, 2022.
---
CJSA membership
CJSA held its annual meeting on June 5, in conjunction with the Breed Bash in Brush. Members elected officers. They are:

Brandyn Hill, President
Blake Fabrizius, Vice President
Bradie Midcap, Secretary

Paid Members:

Baty, Sydney
Blanch, Adley
Blanch, Kashton
Brisendine, Chelsea
Bruna, Colbie
Bruna, Shaelynn
Carney, Scarlett
Dias, Jason
Fabrizius, Blake
Hill, Brandyn
Hill, Bryce
Hill, Easton
Kawcak, Aptyn
Midcap, Bradie
Midcap, Casey
Midcap, Kolby
Pargin, Kandace
Pargin, Kimberly
Temple, Ashley
Temple, Coy
Temple, Lindsay
Woodward, Ellie
Woodward, John

Paul & Nia Hill, and Susan Russell, Advisors
---
Colorado Simmental Association � Colorado Simmental Association � Colorado Simmental Association � Colorado Simmental Association
Cattle Site Design by EDJE | Visit EDJE Cattle |