Youth of Year and Scholarships announced

CSA selected Bryce Hill as CSA's Youth of the Year, the state's equivalent of ASA's Bronze Merit, plus Hill was one of three CSA scholarship recipients. Hill, of Sterling, is heading to Northwest College at Powell, Wyo., on a livestock judging scholarship. He is in his second term as Colorado Junior Simmental's president, and was thanked for his assistance at both the Junior Extravaganza multi-breed field day and Colorado State Fair.

CSA gave three grants. In addition to Hill, $500 CSA scholarship recipients were Bradie Midcap of Wray and Riley Maranville of Ramah.

CSA youth grant applications, which include referenced and resume, are due each Oct. 1 before they are forwarded to a selection committee. Watch for application details.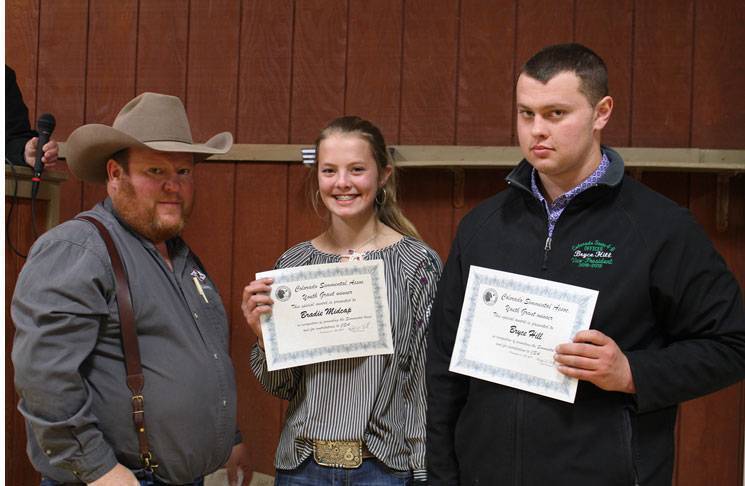 Simmental-Shorthorn create Junior Extravaganza

Colorado Simmental and Shorthorn youth enjoyed a fun-filled day when the breed associations joined forces to create a "Junior Extravaganza" on June 9, 2018 at Rocky Ford.
Saturday kicked off with fun, educational contests. In the Quiz Bowl, teammates were drawn from a bucket. Youth were asked beef industry questions, ranging from bunk space requirements and body temperature queries, to pedigree and gestation-related questions. The team of Gabri Leone of Fowler and Bryce Hill of Sterling were victorious in the final round of the round-robin contest.
Two additional contests help prepare youth for Junior Nationals. A salesmanship contest allowed contestants to attempt to merchandise their heifer to Justin Mosher and Clay Kimberlin, judges from Olathe who posed as buyers. Leone took the top prize for the salesmanship. In a beef judging contest, where youth evaluated strengths & weaknesses of a class, plus written questions, the top award was earned by McKellen Rains of Oakley, KS.
Following a lunch, generously sponsored by GeneSeek, a genomics division of Neogen, the attention shifted to the registered cattle shows. Purebred and percentage divisions all were judged by Mosher, a livestock judging team standout from Hutchinson Community College in Hutchinson, KS. He selected Hill's March-born heifer as Overall Simmental Champion Female, and named an April-born heifer shown by Molly Cooksey of Roggen as the Overall Shorthorn Champion Female. Both received cowhide banners.
As calves and participants continued to fill the barn at the Arkansas Valley Fairgrounds, the Junior Extravaganza showmanship contest was open to any breed association, 4-H or FFA youth attending on Saturday. Custom memory box prizes were offered in two age divisions. Cash Pruett of Pueblo was the junior division showmanship champion and Cooksey was the senior division winner.
Mosher also judged the All-breeds Open Jackpot, which was held to give both cattle and youth a good practice opportunity for showing. In the market division, steer classes were broken by animal weight and in the female division, class breaks were based on animal age. Pruett won with his 1140-pound Charolais-cross steer; and Cooksey won with her Shorthorn heifer. Cash and prizes both were awarded.
Saturday's Junior Extravaganza was hosted by the Colorado Junior Simmental Association and Rocky Mountain Junior Shorthorn Association, and coordinated by Dr. Rick Leone of Fowler and Susan Russell of Sugar City.

Gabri Leone and Bryce Hill confer before answering
a Quiz Bowl question.

Bryce Hill's heifer was named Overall Simmental
Champion Female at the 2018 Junior Extravaganza.

McKellen Rains, who won the judging contest, is
shown during sales talk with judges Justin Mosher
and Clay Kimberlin.
---
2018/2019 COLORADO JUNIOR SIMMENTAL
During its annual meeting held at the Junior Extravaganza, CJSA members elected officers. They are:
Bryce Hill, President
McKellen Rains,Vice President
Ellie Woodward, Secretary
Paid Members:
Baty, Sydney
Brisendine, Chelsea
Brisendine, Trace
Hill, Brandyn
Hill, Bryce
King, Jake
Midcap, Bradie
Midcap, Casey
Midcap, Kolby
Pargin, Kandace
Pargin, Kimberly
Rains, Mckellen
Temple, Birdee
Temple, Lindsay
Temple, Shelby
Woodward, Ellie
Woodward, Robbie
Jay Hill and Susan Russell, Advisors